Last Update 20/01/18
Now located in our new shed,  Most of the bodywork has now been completed. New door frames have been fitted, doors have been rebuilt and fitted, bodyside engine room doors have had all the rotten louvres replaced with ones recovered from bodyside grilles. The waistband has also been welded on to re-create the pre – HGR look. The loco body is now being filled and rubbed down for coats of primer and undercoat. A massive thankyou to out contract welders for an outstanding job.
New nose end doors have been made for both cab ends to replace the original heavily corroded ones…10/05/13
No2 end nose doors following aligning, shaping, drilling/tapping and priming…..12/05/13
31418 stands in the diesel shed showing new skirtings and repositioned ETS box….13/01/13
Awaiting the fitting of discs, band, nose door, lamp irons etc as yet another kettle refill takes place ! …13/01/13
WORK CARRIED OUT 2014
Twelve overhauled fuel injectors have been fitted along with pipes, trays etc. Rotten cab door areas at no 2 end have been cut away and new steel is slowly being welded in,
Work to the suspension tubes has been carried out on 2 wheelsets.
Both cab doors at no 1 end have been rebuilt.
New connectors fitted to some traction motor cables. All cables now connected and secure.
WORK PLANNED FOR WINTER 2013 / 2014
Renew nose end doors, line up and refit…..(completed May 2013)
Repair louvres on both bodyside engine room doors and paint….. (deferred to Winter 2014)
Make 'adjustments' to no 2 end cab doors to make them fit better in their frames…. (deferred to summer 2014)
Repair no 1 end cab doors and refit….. (deferred to Winter 2014)
Rebuild / repair cab floor area / framework at no 1 end s/mans side…… (completed Jan 2013)
Fit the no 1 end s/mans cab skirting……(completed Feb 2013)
Fit LH side cab handrails and step panels……(completed Jan 2013)
WORK COMPLETED / IN PROGRESS DURING 2012
A poor but 'usable' set of batteries have been fitted to enable the testing of electrical circuits / machines. The fuel transfer pump and lubricating oil priming pump have both had their commutators cleaned up and brushes freed off and have been 'run up' off the batteries with no problems. The engine room lighting circuit has also been tested as well as the marker / tail lights. All are now ok following renewal of a few bulb holders. Following renewal of a fire detector holder and attention to the fire alarm relay and test switch, the fire alarm system now works correctly in both cabs. The fault lights for low fuel, high water temperature, low water level, earth fault & traction motor blower failure have also been tested in normal and fault conditions and are working correctly. An SSF unit has also been fitted at no 2 end.
Both no 1 end cab doors have been completely stripped down to enable renewal of the door drip tray and bases. No 2 end doors have been re-fitted and are in the process of having panels and glass fitted.
'A Bank' radiator shutters have been rubbed down and primed. 'B bank' shutters will be similarily treated shortly.
WORK COMPLETED DURING 2011
No 2 end electrical cubicle area has recently been overhauled and repainted. No 2 end traction motor blower was found to be defective and has been professionally overhauled and refitted. No 2 compressor & stand as well as no 1 exhauster were removed to enable access to the filter box recesses which were heavily corroded. These have now been rebuilt and the machines examined, repainted and refitted. All machines have been re-brushed. The bulkhead roof arch has also been replaced with a newly fabricated one due to corrosion.
The electrical cubicle has been overhauled / cleaned / painted and no 1 compressor examined / painted.
All the 21 air receivers have recently passed testing and have been refitted. The handbrakes, claws and underframe air hoses have also recently been connected. The battery boxes heve been brought out of store and have been overhauled, repainted and fitted.
Most of the bodyside skirting has been refitted along with three of the front end skirts recovered from 31225 many years ago.
No 2 end cab doors have been rebuilt with approx the bottom 8 inch of each door completely renewed including the drip trays. Both doors are now awaiting glass and external planels to be re-fitted. No 1 doors are to be similarily treated shortly.
No 2 cab floor / frame area has recently received major attention with new steel being welded in and new hardboard floors being fitted in the door areas.
No 2 end cab roughly 70% completed internally.
The water header tank has been rebuilt due to heavy corrosion in its base and has now been refitted and connected to services.
The ETS recepticles have been relocated back to their original position. All wiring has been reconnected inside the fan shaft area circuit board. Engine room is 99% top coated now.
31418 stored temporarily in 'C Bay' at Swanwick….23/07/12
No 2 end of 31418 showing rebuilt filter recesses and skirting…14/07/11
A view from the other side whilst waiting for the roof to be lifted on….14/07/11
The painted and overhauled no 2 end / cubicle with refitted machines…..14/07/11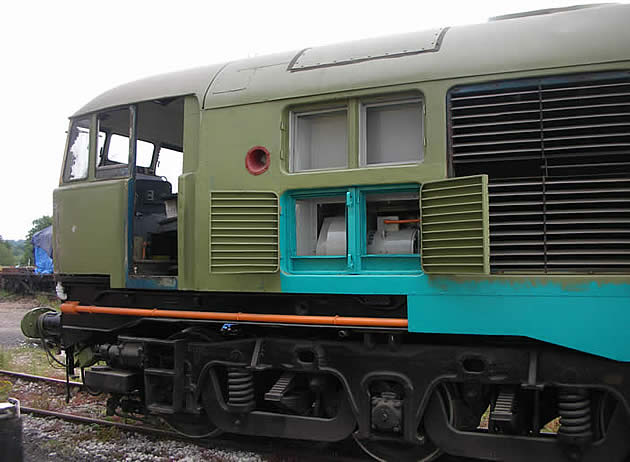 A view from no 1 end showing no 1 traction motor blower and housing as well as boiler water gauge…14/07/11
31418 Overhaul News
All traction motors have been washed out , cleaned up , re-brushed and their cables re-connected.
All cylinder heads , pistons, con rods and cylinder liners were removed from the engine block. A3 & B5 pistons were seized inside their liners and were lifted out 'as one' and separated with a hydraulic jack.
All the pistons were in excellent condition and did not require any work other than cleaning up and re-ringing. The con rods were also thoroughly examined.. A3 & B5 cylinder liners have been scrapped due to water damage but the other 10 have been re-used following honing.
All 12 cylinder liners, pistons , rods and cylinder heads have now been re-fitted.. New big end bearings have been fitted throughout and all rings have been renewed.
The 'engine roof panel' has been shotblasted / primed and re-fitted. Cab roofs and some of the bodysides have also been shotblasted / rubbed down and primed.
As a result of severe frost damage on the 'A' Bank turbo on 31418's power unit (ex 31421) , the 'A' Bank turbo recovered from 31123 has been de-carbonised , freed-off and has had new oil added. It now spins freely and has been fitted and painted. The 'B' Bank turbo has similarily been dealt with in-situ and also spins freely now.
The 'exhaust roof panel' and the ' electrical cubicle roof panel' have been shotblasted / primed and the ETH cubicle has been examined, painted and refitted into the loco.
Nose end doors , louvres , cab doors and skirting has been removed for shotblasting / repair. Some of the corroded bodywork has been cut out ready for replacement. The nose end doors are to be replaced with newly fabricated ones.
The concrete block (ballast weight) has been removed and the boiler, which has been cosmetically restored, fitted in its place. The boiler water tank (ex 31123) has been shotblasted, painted and fitted into 31418. Three corroded air pipes in the boiler room have been replaced and the boiler / radiator area cleaned, primed and top coated. The boiler area roof section has also been shotblasted, had corroded steel replaced, painted in primer and re-fitted. The emergency fuel tank along with the rad fan cowl have also been cleaned up, painted and re-fitted.
Work continues with the power unit and cutting out corroded steel and replacement which is now concentrating on the cab doors which require re-building.
Only the fuel pipes to / from the injectors and the injectors themselves require fitting to make the power unit complete.
All skirting has been removed and shotblasted. Most sections will require repairs. Both nose ends have received a thorough cleaning , rubbing down and priming. 21/08/08
Both no 2 end cab doors have been removed for rebuilding and the cabs are stripped out. Corroded steelworkhas been cut out ready for renewal. Many of the filter box recesses will have to be completely rebuilt as a result of severe corrosion. 21/08/08
'BEFORE' ….. Serious corrosion around the no 1 traction motor blower air intake is seen here. Most of what 'should be there' has completely disappeared and will therefore require rebuilding. 23/08/08
'AFTER' …. The area has totally been rebuilt..31/05/09
A view of no 2 end cab showing replating work in progress. The roof vent and nose door bases are being rebuilt and new steel will be cut and welded in below the marker lights. The nose end has been cleaned, rubbed down and primed . 21/08/08
All of the removable roof sections have now been shotblasted and painted apart from the 'boiler roof' . Both battery boxes have been removed for overhaul and to gain access to the fuel tank. The fuel tank will in turn be removed to enable inspection and testing of the air receivers. 21/08/08
The 'Exhaust roof' is about to be fitted following replacement of the ETH cubicle, generator bulkhead and turbo manifolds……a major step forward ! . 31/05/09
---
Current Location:
Swanwick…Midland Railway , Butterley
StatusSummary of work done in 2009
Undergoing long-term restoration to working order.During 2009 a major step forward to seeing 31418 running was achieved with the following major achievements, thanks to our dedicated workforce.

Continue with power-unit overhaul….. (completed December 2009)
Continue with body overhaul…..lots of new steel required ! …..(in progress)
Boiler room (no 1 end) area to paint and 31162's original boiler to cosmetically restore and fit. The boiler water tank ex 31123 will also be cleaned up / painted and fitted. A new bulkhead archway will also be fabricated and fitted to replace the corroded one now removed. The roof section will be shot blasted, painted and refitted….(completed October)
ETH cubicle ex 31421 (already electrically repaired) to be examined, painted, fitted and turbo manifolds to replace . The roof will then be fitted….(completed May)
All main gen , alternator and eth cubicle cables / wires to re-connect….(completed April)

Summary of work done in 2010Bogie swap / Body lift

Continue with body overhaul…..(in progress)
No 2 end roof archway to renew and electrical cubicle / area to clean and paint..(in progress)
No 2 cab to rub down and paint, doors and floor to repair…(completed November)
Remaining panels / louvres to shotblast and paint (completed September)

As a result of sustaining a collapsed suspension tube bearing to No 4 wheelset whilst in British Rail ownership , the decision was taken to change No 2 bogie completely for the No 1 bogie recovered from scrapped 31123.

The underframe was treated to 3 thorough steam cleans , it was that bad ! , and claws , cables , pipes etc were disconnected . 31123's No 1 bogie was overhauled and repainted then converted to a No 2 bogie by the fitting of AWS. Over 4 days Thursday 15th Feb – Sunday 18th Feb 2007, the bogie exchange took place in the PRCLT West Shed at Swanwick.

On the Thursday , the loco was lifted from its bogies and both bogies removed. The No 1 bogie being taken 'downstairs' for steam cleaning and the No 2 bogie placed for storage. The Friday saw more steam cleaning to the No 1 bogie after which it was positioned back inside the shed for drying and for a small amount of repairs to be carried out. On the Saturday the bogie was re-painted and repairs carried out on the loco's underframe. Finally , the Sunday saw 31123's bogie brought 'upstairs' and later in the afternoon both bogies were carefully positioned underneath 31418 and the body gently lowered down.

31418 was taken back 'downstairs' and placed into storage. Claws , cables etc will be fitted shortly………another major step forward……!

31418 is positioned ready to be 'set up' for lifting at West Shed on 15/02/07.

Bogies are removed from underneath 31418 by Class 03 D2138 on 15/02/07.

No 1 bogie ex 31418 is steam cleaned at Swanwick on 16/02/07.

31418 sits on the jacks awaiting the return of some bogies on 16/02/07.

No 1 bogie receives finishing touches following repair and painting on 17/02/07.

Another view of 31418 waiting for bogies on 18/02/07. All photos by M Atmore.