31414 moves to Swanwick Depot, MRC
On Sunday 18th March, 31414 moved by rail on the mainline for the first time in 19 years ! ROG 47813 collected it from Barrow Hill at 1400 and arrived at Swanwick at 1530.
60th Anniversary of the Class 31 – Limited Edition Calendar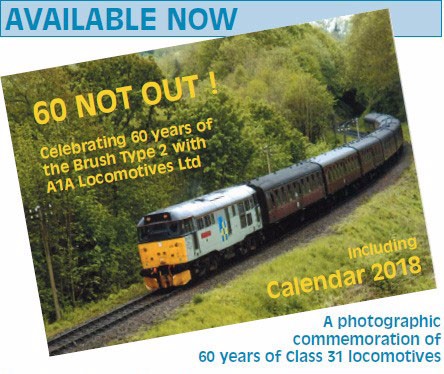 To coincide with the 60th Anniversary of this hard-working and incredibly durable locomotive, we've produced a limited edition, photographic calendar. Find out more >
31108  / 31418
31108's body overhaul has been completed and we hope to give the loco a repaint sometime this year. The coolant header tank on 31108 was found to be leaking in October, and has been removed for overhaul.
31418's bodywork is now 95% complete and a start has been made with filling / priming.
31414 at Barrow Hill… (07/02/2018)
Plenty of work has been carried out. Even though the loco was a 'runner' when purchased she had many faults and an appalling amount of corrosion, largely due to the wet and damp climate of her previous base.
31414 was lifted off its bogies at Barrow Hill over the weekend of Sat 27th  – Sun 28th Jan.  The bogies were wheeled outside and scraped of crud and heavily steam cleaned. The traction motors were thoroughly cleaned once back inside the shed, with many brush boxes being removed for this purpose. No 3 traction motor top brush box mounting plinth was re – welded, having come adrift. New brushes have been fitted to all 4 motors replacing the heavily worn ones. The bogies were thoroughly examined and a few missing grease nipples replaced.  A brake cylinder on no 2 bogie which had been isolated using a 5p piece ! in the pipework, has had a new seal fitted and brought back into use. On the body, 3 corroded roof arches were renewed, some rot cut out, and a patch welded in on a roof section, and bucket loads of crud removed from the underframe. The body was re-united with the bogies on the Sunday evening and now awaits re-connecting, greasing and air / brake testing. A massive thankyou to HNRC for the use of facilities.
Carried out so far……12 fuel injectors overhauled and fitted, broken charge air manifold removed from 'A' bank turbo and renewed, engine governor renewed, waste fluid galleries cleaned of sludge and drains unblocked, turbo chargers examined and oil changed,  electrical cubicle examined, wiring checked and cleaned up – few contactors / micro switches renewed, copper tips renewed, arc chutes renewed etc, ETS cubicle examined, contactors freed off, some renewed and cleaned up etc. Horns re-fitted and made to work, some louvre doors renewed and recesses re-built. Cab floors lifted to examine pipework and wiring – much pipework rotton and some wires perished….to renew soon ! Nose end doors removed for base frame renewal, bodywork corroded steel cut out and patched with new steel. New roof hatch securing bolts fitted to replace broken ones, electronic voltage regulator to examine and possibly replace. No 1 end traction motor blower will require renewal due to a very worn comm although it should run ok for the time being, no 2 exhauster has a very bad oil leak, this to examine and sort….loco also requires a full engine oil change.
New roof arches have been fabricated and the roof sections are disconnected ready for removal, all traction motors are de-brushed ready for brand new brushes.  Flashover damage to no 3 traction motor will be addressed soon and welding required to top brush box…should clean up ok……(all done 28/01/18)
It was hoped all the work would be completed in time for 31414 to attend the NVR October class 31 event  however welding work is progressing at a slower than expected rate !  Agreement has been reached to keep 31414 at BH until April 2018 then move to MRB for further bodywork reps to be carried out..
To keep the fleet…and indeed the new shed in order, requires money ! We can only carry out this work with shares / donations so if anyone can help out financially by donating / creating a standing order account and/or becoming a shareholder, we would be very grateful !  Many thanks !

31414 has become the latest member of the class to come under the wing of A1A Locomotives Ltd.
The acquisition was the result of a number of our shareholders coming together independently to raise sufficient funds to buy and transport 31414 from the owners at Ecclesbourne Valley Railway. Thanks to the generosity of those shareholders, 31414 is now wholly owned by A1A Locomotives Ltd and brings the fleet up to 5 locomotives.
 Archive photo of 31414 at Barnstaple in April 1982, courtesy of Steve Harvey
---
 Newsletter distribution goes online (print copy still an option!)
From February, the A1A Locomotives newsletter was made available to read online, saving on print and postage costs.
---
The A1A Locomotives shed is now providing shelter for 31108, 31162 and 31418. This means our fleet will be protected from the elements in a way we could only dream of in previous years.
Information last updated 24/12/2015
---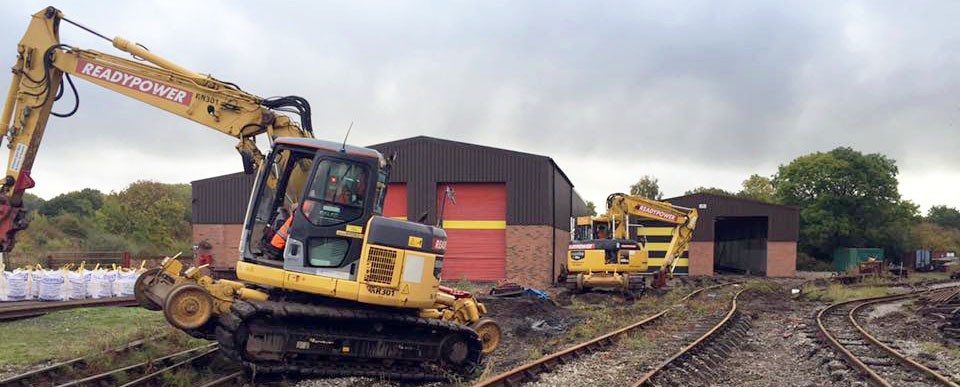 Photo by John Hardy
The A1A Locomotives shed at the Midland Railway Centre is now connected and 31418 has taken the rails into No.2 Road.
Read more about progress in the news pages
---
Introducing A1A Locomotives
We are dedicated to actively preserving & operating class 31 diesel locos and membership is open to anyone supporting these aims.
The company was formed in Autumn 1995 taking over the operations from the former A1A Group, which was itself formed at an inaugural meeting of committed class 31 followers on the 'Wensleydale Wanderer' railtour of 27/05/1990.
All locomotive maintenance is carried out by A1A Locos Ltd as is the operation of all our fleet.
---

The A1A Fleet
Our operational fleet consists of un-refurbished 31162 together with refurbished 31108 and 31271. One-time unique 'Skinhead' Class 31/4 and oldest surviving 'production series' class 31 no 31418 , is currently under long-term overhaul from 'as withdrawn' condition as is new addition 31414 at Barrow Hill.
---
Workings
We are proud to have achieved a reputation for quality restoration work and reliable service at a wide variety of preservation centres and diesel events, some of which have brought the first ever visit of the class to a particular location.
---